Dreadlocks have been a symbol of individuality, culture, and style for centuries. Today, women across the globe are embracing this unique hairstyle. In the world of hair extensions and styling, Daddy Dreads stands as a master craftsman, creating exceptional dreadlock extensions for women. Whether you're looking for long, short, curly, or wavy dreads, our shop has got you covered. In this article, we'll delve into the world of dreadlocks for women and explore the fantastic range of products they offer.
Dreadlock Extensions for Women
Daddy Dreads is proud to offer a big collection of dreadlock extensions made especially for women. These extensions are created with great care to help you achieve the look you want. Each dreadlock is made by hand with a lot of attention to detail, showing the dedication and skill that goes into every piece.
Our synthetic extensions are a great choice if you want to try out this unique style without making a permanent change. They are versatile, easy to put in, and come in different lengths and colors. Whether you like the classic black or a bright shade, Daddy Dreads has options that match your style.

Short Dreads for Women
Crochet dreadlocks are a popular choice among women due to their natural appearance and durability. At Daddy Dreads, we take pride in offering high-quality female crochet dreadlocks that seamlessly blend with your own hair. Our skilled craftsmen meticulously create each dreadlock to achieve an authentic look.
Our short dreadlocks are offered in both synthetic and crochet versions, giving you the freedom to pick the one that fits your liking. These dreadlocks are hassle-free to style and take care of, making them a practical choice for busy women.
With Daddy Dreads short dreadlock extensions, achieving that cool and fashionable look you've been wanting is a breeze.
Long Dreads for Women
If you've been dreaming of having long, beautiful dreadlocks, Daddy Dreads has just what you need. We offer a range of long dreadlock extensions that are designed to impress while maintaining our commitment to quality and craftsmanship.
Our long dreadlocks come in different styles, such as wavy and straight, so you can choose the one that complements your natural hair texture. Whether it's a special occasion or you want to make a bold fashion statement, our long dreadlock extensions are the perfect choice. With Daddy Dreads, achieving a stunning and attention-grabbing look that reflects your unique style has never been easier.
Female Curly Dreads
Curly dreadlocks can add a touch of fun and personality to your hairstyle. Our shop offers an adorable collection of curly dreadlock extensions for women who want a look that stands out.
Our curly dreadlocks are carefully crafted to maintain their shape and bounce, ensuring you look your best. Whether you're going for a bohemian vibe or a more eclectic style, our curly dreadlocks are versatile and easy to style. Plus, they come in various lengths, so you can choose the one that matches your desired look. With our curly dreadlock extensions, you can embrace your unique style with confidence.
Female Colored Dreads
Looking to make a bold and vibrant statement with your hair? Our female colored dreads are the perfect choice. We understand that every woman's style is unique, which is why we offer an array of colors to match your personality. Whether you prefer striking reds, elegant blues, or natural-looking browns, we have colored dreads that will complement your look.
Our colored dreads are carefully crafted to ensure the color stays vivid and doesn't fade over time. Express your individuality and creativity by choosing from our extensive palette of shades. With Daddy Dreads colored sets, you can infuse your personality into your hairstyle and turn heads wherever you go.
Female Crochet Dreads
Crochet dreadlocks are a popular choice among women due to their natural appearance and durability. At Daddy Dreads, we take pride in offering high-quality female crochet dreads that seamlessly blend with your own hair. Our skilled craftsmen meticulously create each dreadlock to achieve an authentic look.
Crochet dreadlocks are not only stylish but also low-maintenance. They are easy to install and maintain, making them a practical choice for busy women. Whether you're aiming for a bohemian chic look or a more classic style, our crochet dreadlocks are versatile and can be customized to match your desired length and texture.
Female Fake Dreads
If you're not ready for permanent dreadlocks but still want to enjoy this cool style, our fake dreads for women are the perfect answer. Our fake sets let you experiment with dreadlocks without making a permanent change to your natural hair.
Our fake dreadlocks are made from high-quality synthetic materials that look a lot like real dreadlocks. They're light, comfortable to wear, and come in different lengths and styles. Whether you want a short and sassy look or a long and dramatic one, our fake dreadlocks offer plenty of options to express your unique style.
Women's Dreadlocks Hairstyles
Dreads offer a world of versatility when it comes to hairstyles for women. You can experiment with different looks and textures, whether you prefer wavy, curly, long, or short hair. From elegant updos to casual boho styles, the possibilities are endless with women's dreadlocks.
Daddy Dreads Studio provides you with the tools to explore various women's dreadlocks hairstyles, allowing you to express your creativity and individuality. Whether you're heading to a special event or simply want to elevate your everyday look, our dreads are the canvas upon which you can craft your unique style.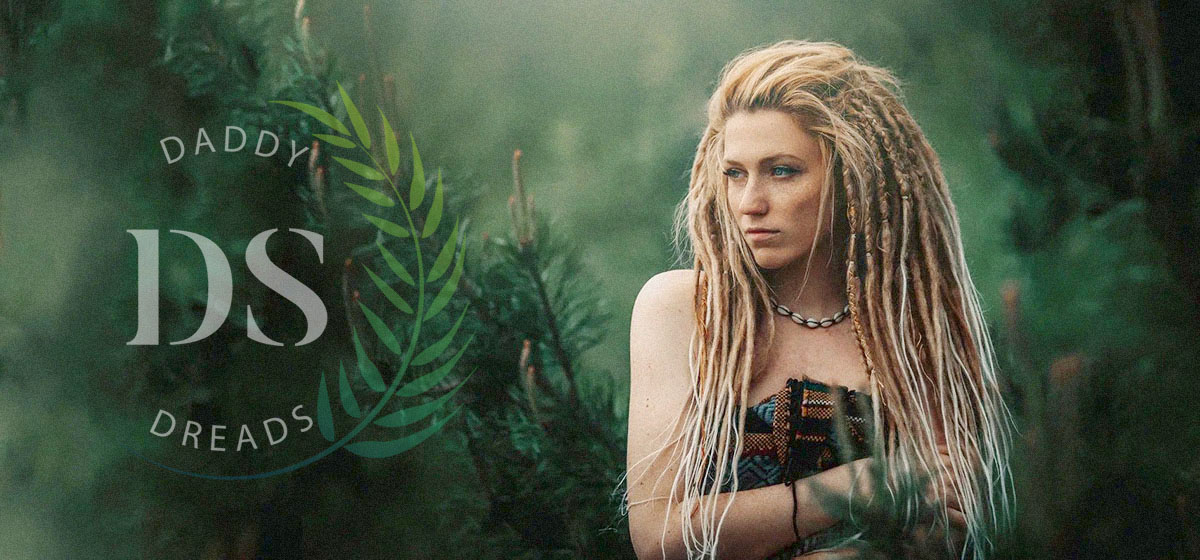 Women's Dreadlocks FAQs
How to Get Dreadlocks Female?
A woman's dreadlocks hairstyle is an exciting journey. Here is a step-by-step guide to help you achieve the dreadlocks look you desire:
Choose the type of dreadlocks: decide whether you want synthetic, knitted, colored or curly dreadlocks. Each type of dreadlocks has its own unique style, so choose the one that suits you best;
Consult a professional: it is advisable to consult an experienced hairdresser or dreadlock specialist who can help you navigate the process and make an informed choice;
Prepare your hair: depending on your hair type and length, a dreadlock specialist will prepare your hair by dividing it into sections and securing them to create dreadlocks;
Care: dreadlocks require regular maintenance to keep them clean and neat. Regularly separating and rolling the dreadlocks with the palm of your hand will help them mature properly;
Patience is key: dreadlocks take time to fully form and mature. Be patient and enjoy the journey to unique and beautiful curls.
The braiding process is no different for men, it is a unisex hairstyle.
How to Start Dreads with Short Hair Female?
Getting dreadlocks on short hair is quite possible. To start your dreadlocks journey, follow the steps below:
Hair length: make sure your hair is at least 2–3 inches long to start shaping your dreadlocks.
Choose a method: discuss with your dreadlock maker which method will work best for your short hair: it can be as simple as braiding synthetic dreadlocks, or you can braid natural dreadlocks with a hook and comb.
Regular maintenance: dreadlocks on short hair can mature faster, so roll and separate them carefully with the palms of your hands to give them a nice shape.
How to Style Women's Dreadlocks?
Styling women's dreadlocks opens up limitless possibilities. Here are a few ideas to get you started:
Decorate: embellish your dreadlocks with beads, shells, or multicolored hairpins to give them a personal touch;
Styling: use dreadlocks to create elegant styles or casual buns for a sophisticated or casual look;
Half-up style: this classic hairstyle is perfect for both casual and formal occasions;
Braids: Braid your dreadlocks into braids to create a tribal look.
How to Wash Dreadlocks?
Prepare soapy water or a special foam for washing braided hair (available at our studio);
Stand under the shower. Do not tilt your head! Wet the scalp and apply soapy water or foam, spreading with fingers on all partings;
Rinse thoroughly with water and repeat the procedure if necessary;
Do not use balm, masks, oils;
Blot dreadlocks with a towel and wait for complete drying.
What Are Dreadlocks?
Dreadlocks are a unique hairstyle in which the hair is intentionally matted and turned into individual, rope-like strands. They come in different lengths, styles, and materials, making them very versatile and customizable.
Why Are They Called Dreadlocks?
The term "dreadlocks" is believed to have originated from the word "dread," referring to the sense of awe or fear that the hairstyle often evoked because of its unconventional and striking appearance. Over time, the term has evolved into a symbol of cultural expression and individuality.